An Oregon State University study found that most of the prime, flat land near grid load is already in use as farmland, growing food or ranching livestock. In many markets including the Pacific Northwest, agrivoltaics, which is the pairing of farming with solar, is a solution for the food versus energy transition dilemma.
Agrivoltaics provides benefits for the farmer or landowner, the project developer and local communities.
Ranching holds particular promise in the agrivoltaics community, as photovoltaic shade has been shown to benefit forage, especially in arid regions. This creates better soil composition for cows, sheep and other farm animals to graze, while creating a more natural soil composition around the panels, according to the Oregon State study.
David McFeeters-Krone, a founder of Rute Foundations and developer of a cattle farming agrivoltaics project in eastern Oregon, told pv magazine USA that his development, Bear Valley Solar Pasture, LLC, is currently engaged with a fourth-generation cattle grazer in Grant County, Oregon. The project is receiving oversight from Oregon State University's agrivoltaics program for land use management, water and soil studies on the farm's site.   
The farmer, Jack Southworth, who operates on a 12,700 acre farm and rents an additional 24,700 acres, was previously approached by an undisclosed large solar developer interested in taking over the farm as a whole, McFeeters-Krone recalls. With cattle revenue at a base rate of about $10 per acre, the farmer did not want to exclusively lease the entire ranch even though solar sited in the same area could produce $700 to $1,000 per acre from added revenue.  
Southworth Brothers Ranch runs a total of 650 cows and calves, and 600 yearlings, the developer said.
In October 2022, Southworth reached out to Dr. Serkan Ates, who studies pasture and grazing management at Oregon State in conjunction with Chad Higgins, an associate professor who heads the university's agrivoltaics program, the developer said. "Can we have cattle and solar at the same time,' is what he was asking about the best possible land use without losing his livelihood and the community impact," McFeeters-Krone said.
By early 2023, the developer was doing demonstration projects with Oregon State and began working with Southworth on his ranch.
In an emailed statement to pv magazine USA, Dr. Ates said his team is planning to develop a research study at the Southworth ranch site, where he will try a number of forages and different vegetation establishment and management techniques.
In addition to the financial gains from sharing his land with a solar developer, McFeeters-Krone says previous studies have shown that solar project's shading can improve the soil's moisture retention, which should stimulate a regeneration of Southworth's cattle lands as well.   
Grass and hay are encouraged following the introduction of ample shading, providing sustenance for the cattle grazer's operations, while manure left behind from the cattle will add soil nutritional content over time as well, the developer said.   
Bear Valley Solar will deploy 240 kW of the 1.5 MW cattle-sited solar field pasture this year, with construction in its first phase ramping up this summer, McFeeters-Krone said. The project is cattle-friendly using the Rute Foundations SunTracker mounting hardware. The hardware combines a panel height and groups a supporting cable wiring harnesses mesh or grid to allow for cattle, farm vehicles and ranchers to safely pass underneath mounted PV systems.  The support cables also allow easy mounting of wiring harnesses, eliminating the need for expensive and disruptive trenching, he said. 
SunTracker uses a cantilevered foundation that is significantly stronger than a typical range fence construction. While the mounting hardware may not be strong enough to withstand impact of a herd of animals, its anchoring into the soil is designed to provide stability to cattle and weather elements, he said.   
"The Klamath region of Oregon has difficulty retaining water, so I suspect we'd create a micro-climate in southern Oregon region as well," McFeeters-Krone said about the replicability of the Bear Valley small PV project.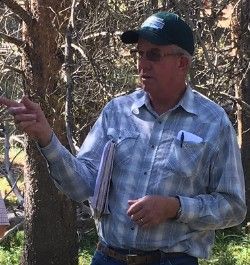 Like Jack's Solar Garden in Colorado, Bear Valley hopes to show soil rejuvenation, moisture retention and water preservation that can produce a 20% gain in regions such as Oregon which are increasingly seeing prolonged drought seasons due to climate change, the developer said.
Homegrown cattle farming
The cattle ranch that Southworth farms was started by his great grandfather in 1885. Southworth is a member and current chairman of Country Natural Beef, a cattle cooperative that focuses on raising beef in an economically and environmentally sustainable manner.
Southworth has planted willow trees to restore streams on his property and worked with the Forest Service to sustainably graze his cattle in the summers, among other measures employed by local farmers.
In addition to adding solar generation on his family ranch, Southworth is also a member of the Harney County Forest Restoration Collaborative. Since 2010 the southern Malheur Forest collaborative in Oregon has been responsible for the restoration of more than 250,000 acres of forest lands.