Rate design is the process by which electric utilities are attempting to restructure their revenue streams in light of an evolving marketplace for electricity. In California, customers that have solar power are now on time of use schedules, and this has led to a boom in energy storage (along with storage incentives and many other solar supporting measures).
We Energies, a utility serving Wisconsin and Michigan's Upper Peninsula (home of some of the nation's most expensive electricity), has filed (pdf) to increase the residential fixed charge from $16 to $17.65 / month (10.3%), and seeks to charge an additional fee of $3.53/kWac every month for on its  residential customers who utilize solar power.
The electric utility, as part of its rate filing, broke down the standard residential solar power customer electricity costs, that are just over 17¢/kWh (above), as if it was a commercial customer bill. The utility suggested that its Cost of Service Study (COSS) states that "of all the costs to serve our residential customers, 78% are fixed and only 22% are variable."
For an average sized residential solar power installation of 6 kWac / 7 kWdc, that covers 100% of the home's annual electricity use, and has a 14% AC capacity factor (as noted in the filing), this fee represents approximately 24% of the variable monthly charges (see calculations in Google Drive).
It should be expected that utility scale generators will battle with distributed generators in some markets; however, there are definitely a variety of responses going on in the 50 unique state energy markets of the United States:
Of course, it is very clear that the utilities are doing hard math on the value of solar power as Wisconsin regulators are reviewing more than 4.6 GWac of solar in more than two dozen utility scale projects.
In recent years, as electricity use has flattened since around 2007, utilities have shifted from building new generation resources to increasing their investments in transmission and distribution (below) of the generated electricity. This has meant that what utilities charge for has shifted from peaking at 70% due to generation, to 54% in 2016.
Transmission investment has grown from approximately $8 billion in 2007, to about $21 billion in 2016.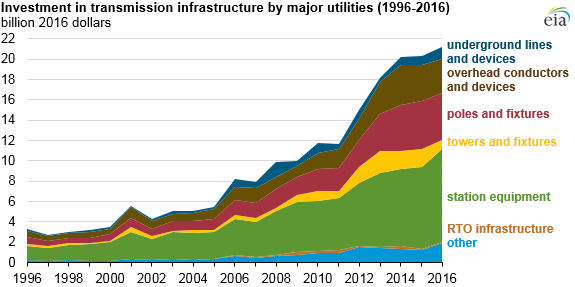 Some would suggest that this shift is a technique to enable further "gold plating" by the electric utilities in order to keep their guaranteed profits up while falling pricing from wind and solar eat away at generation revenue.